Hello September. Goodbye ellipsis. Okay, I don't plan to get rid of ellipsis completely. I can't help it. I totally heart them. However, September is the month of ellipsis clean up. So, if you peruse my blog you will see many ellipsis have been turned into commas and many more made into whole new sentences. Yes, I get it. I've been using them incorrectly. Get over it.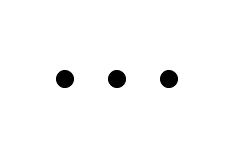 But, I'm making an effort.
We'll see how this goes...